So this post is mainly discussing "ep.1 Black Mamba" (again), the lyrics in "Next Level", and lyrics of "Black Mamba".
So we know that Black Mamba lives in a world similar to the FLAT in the sense that it's a virtual realm, but it is different to the FLAT in the sense that it has no law and order. That world is KWANGYA.
KWANGYA has been part of aespa's lore since the beginning. It was referenced several times in "Black Mamba", "ep.1 Black Mamba" and again in "Next Level". The first time it was ever mentioned was in "Black Mamba"'s post-chorus. Karina stated: "you wander this KWANGYA / I wanna find your other self". Giselle mentioned it again "you wander this KWANGYA / I can't lose against you".
But I find the line "I wanna find your other self" really interesting.
This connects to my theory that nævis has a strong connection with Black Mamba. nævis acts as a guide for both æ-aespa and aespa themselves. I also think it is an AI entity, but its completely backstory is unknown.
What we do know, however, is that nævis is responsible for ensuring the connection between aespa and the avatars, and it does this through a P.O.S or "Portal of Soul". I think we first saw a P.O.S in SYNK, KARINA, we just didn't know what it was until "Next Level" was released.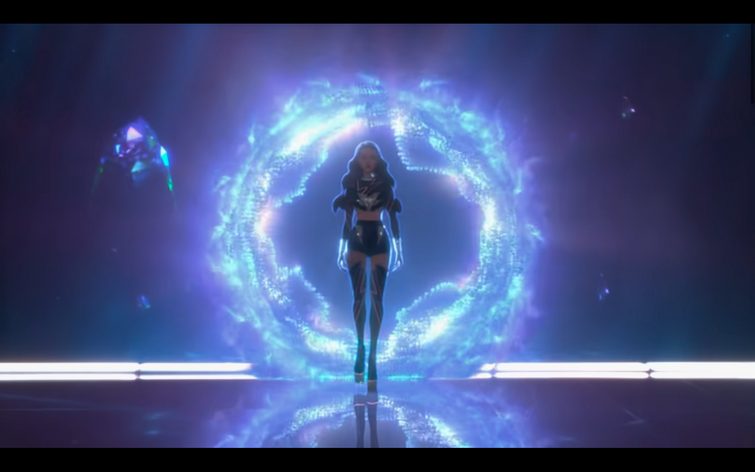 All in all, nævis seems like a trustworthy being. It helps aespa in the fight against Black Mamba and seems determined to continue opening portals and re-connecting the SYNK, so why does it look so similar to one of Black Mamba's forms?

What if nævis is an æ itself, but a reflection of Black Mamba? This also connects to my theory that KWANGYA used to be a virtual utopia.
So far, we have seen two versions of KWANGYA. The one seen in "ep.1 Black Mamba" and the one seen at the beginning of "Next Level"'s music video. The one in the former is a ruined wasteland, it perfectly depicts the KWANGYA that has been described.
However, if we take a look at "Next Level", we can assume that KWANGYA wasn't always this lawless landscape. We're not even sure if this is KWANGYA, but it does make me think of the picture above.
This makes me believe that aespa has already been to KWANGYA
A long time ago, KWANGYA was originally like its neighbouring realm, the FLAT. A utopia where æ who originated from the FLAT lived in harmony with their KWANGYA-dwelling creators. It was a paradise in the virtual clouds.
In this city lived Black Mamba, just another entity loyal to the idea of protecting KWANGYA from dark forces. Black Mamba loved KWANGYA with its entire soul, but was still rather lonely in the realm. So Black Mamba created its own æ, nævis.
Black Mamba's æ was different. It wasn't like the other æ, it was quirky and unique. It opened P.O.S's instead of simply spending time with its creator.
Black Mamba kept nævis a secret, for the Keepers of KWANGYA would be livid if they found out that nævis could open portals to other realms, especially the REAL WORLD. Only the Keepers of KWANGYA were supposed to possess the power to open P.O.S's. They ensured the SYNK between æ and their creators, and could cause a SYNK OUT at any moment. The Keepers of KWANGYA were supportive of other realms, specifically the FLAT, but despised the REAL WORLD.
Black Mamba couldn't understand the prejudice against the REAL WORLD. It had heard hushed rumours of the place and desperately wanted to visit, so it tried persuading nævis to attempt a journey there.
But nævis was never created to go against the rules of the Keepers, and failed again and again despite Black Mamba's requests. Black Mamba had failed to read the Terms and Services upon creating nævis. Soon, nævis betrayed Black Mamba, fleeing to the Keepers and telling them everything. Black Mamba was devastated. Its only friend had betrayed it. All because of the REAL WORLD?
The Keepers caused a SYNK OUT between nævis and Black Mamba, but due to Black Mamba's growing power, it all went wrong. Soon, æ's all across the realm were being returned to the FLAT and their creators were left devastated. The citizens of KWANGYA shunned the Keepers, furious at their actions, and forced them to flee the realm. Now it was Black Mamba's time to strike.
Black Mamba attempted to convince the citizens of KWANGYA to appoint it as their leader, but was shunned and forced to flee like the Keepers. Black Mamba did not flee to the FLAT, not the KOSMO, but the REAL WORLD.
During its time in the REAL WORLD, Black Mamba spread its poisonous ideals, sowing discord and doubt among its gullible citizens. After Black Mamba had ensured the evolution of humanity to suit its ideals, it left the REAL WORLD and returned to KWANGYA, drunk on power.
This time, the citizens were overwhelmed by Black Mamba's expertise. It quickly overthrew the city and changed it to suit its liking. The beautiful utopia was gone, replaced with a fractured fantasy. It erased all of the remaining citizens and began to live comfortably in KWANGYA, always scheming.
What Black Mamba didn't expect was for nævis to be fighting against it. When it had attempted to overthrow KWANGYA for the first time, it had planned for nævis to become its advisor, but nævis was nowhere to be found. Black Mamba figured nævis must have fled to the FLAT with the Keepers of KWANGYA.
During its time in the FLAT, nævis had stayed with the Keepers, taking care of them and advising them after their epic failure. However, when Black Mamba truly overthrew KWANGYA, the Keepers were erased from the FLAT, all of their data was stored in KWANGYA, and Black Mamba had destroyed it.
Devastated, nævis fled to the REAL WORLD. Now that the Keepers had no control over it, it could use its powers for good. Terms and Services be damned.
The citizens of the REAL WORLD, humans, were in chaos when nævis arrived. Wars were raging, famine was spreading, and there was no one to stop it. Black Mamba had done its job well. nævis could not completely reverse the effects, but it put humanity on the right track.
The entity first appeared in the REAL WORLD on April 11, 2000. nævis arrived with a plan. It had managed to save a few traces of the best creators living in KWANGYA. Four, to be precise.
The traces slowly became humans, but they were special. nævis first created Karina, then Giselle, Winter was born, and finally, Ningning was created. nævis ensured that the four girls would understand how to create their æ's before leaving to hunt for Black Mamba's weakness.
The four girls grew up in happy families and enjoyed their childhoods. By the time they were young adults, they had already created their own avatars. æ-Karina, æ-Giselle, æ-Winter, and æ-Ningning. Each girl possessed their own unique skill, and practiced it with their avatars. They formed unbreakable bonds of unity with their avatars and treasured their time spent together.
But the girls still remembered the traces of their life in KWANGYA. In 2016, nævis returned to advise the girls and guide them on the path to defeating Black Mamba. Shortly after nævis left again, a SYNK OUT occurred on November 17, 2020. nævis had done well in shielding aespa from Black Mamba, but the monster had finally discovered the members. Black Mamba was livid. All traces of the previous KWANGYA must be destroyed. Scared and alone, the four girls found each other and promised to help re-connect with their æ's and defeat Black Mamba.
I know that was long, but it kind of explains why Ningning sung "Never look back / Don't covet things of KWANGYA" in "Next Level". She was singing about her past experiences as a citizen of KWANGYA. It also connects to what Karina said in the final chorus: "I'm no longer who I was at KWANGYA". She has embraced her past as citizen of KWANGYA, but it doesn't really matter to her now. All that matters is protecting her fellow members, re-connecting them with their avatars, and defeating Black Mamba. She is travelling to the Next Level, finding KOSMO and never looking back.
It also connects to "You wander this KWANGYA / I wanna find your other self". It's like Karina has a suspicion that nævis is connected to Black Mamba, and she has ever since debut.
But it also explains why Black Mamba and nævis look so similar. nævis was created by the data Black Mamba uploaded, so it is an accurate representation of its digital footprint.
Black Mamba is a shape-shifter, it can assume whichever form it wishes, but usually chooses to assume a truly shocking one with a dark twist. Like when it appeared as a dark æ-Karina in "ep,1 Black Mamba".
When Black Mamba lived happily in KWANGYA, it was was a more positive being, so nævis was created in shades of pink and purple. Whenever Black Mamba assumes its "original" form, it is shrouded in shadow.